Buy, Sell, Trade Shop in Washington, PA
WHO WE ARE:
Established in 2013, owned and operated, we are a buy, sell, trade shop! We are certified and licensed gold buyers. Located in Washington, PA, we have served the community and the surrounding areas as a go-to swap shop for six years and counting.
WHAT WE DO:
Commonly known and mistaken for a pawnshop, that is not quite what we do. We do NOT pawn items of any type. WHAT WE DO is stated right in our name! BUY-SELL-AND-TRADE! Our trade shop buys your items directly outright, with cash, turn around and sell the items on our shelves immediately. There is NO holding period. PLEASE NOTE: We are NOT a check cashing or loan service. We DO NOT cash checks OR give out loans. If you're in Washington, Washington County, Laboratory, Arden, or Wolfdale, PA, we hope you stop by!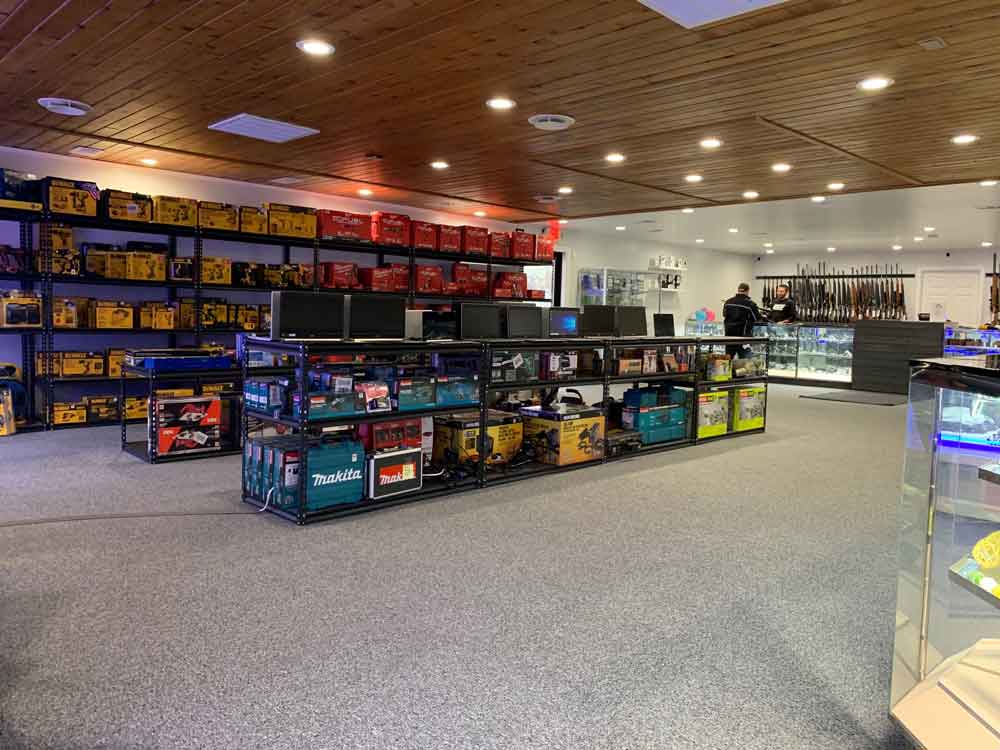 WHAT WE BUY
If it is of any value to us AND  falls under a category that we frequently buy and accept, we will gladly give you an offer on your item! Offering the BEST prices of the area's coin shops, we purchase, but are not limited to:
Firearms
Coins
Jewelry/Precious Metals and Diamonds (Gold, Silver, etc.)
Tools
Gift Cards
TVs, Tablets, Game Systems, Laptops, etc.
And more!
If it is of ANY VALUE TO US, we will give you a CASH offer!
Please Note: Your item MUST BE in WORKING CONDITION! We do not buy any damaged items and will base our decisions/offers solely off of condition and value.
WHAT WE SPECIALIZE IN
Federal Firearms– as a Federal Firearms Licensee and Dealer, buying and selling new and used firearms at the very best prices in the area! We also provide transferring services for $35!
Licensed Gold and Diamond Buyers
Buying gently used goods and reselling them at a fair market price
We buy GIFT CARDS
Jewelry– not only do we buy your unwanted gold and silver for cash, but also we offer a wide selection of beautiful pieces for sale. All of our jewelry on display has been cleaned, polished and refurbished back to its original state, just as if you were to buy it new in a retail jewelry store.
WHAT SETS US APART
Staying relevant! Our swap shop is very selective in the terms of buying and reselling. With technology and the world moving so fast, we shy away from filling our store with items that are outdated or in poor condition. The market is at our fingertips every single day- the Internet is a beautiful thing! That is how our trade shop stays relevant and practical when valuing items, whether that it is in the terms of buying or reselling. In simpler terms, we hold our business to a high standard!
Keeping it honest and fair! When considering the market on a resale end, we offer you the best price that we possibly can.. from the very start! There is no need for haggling or hassling. We will treat you fair and within reason first and foremost.
Clean and Organized! There's a place for everything and everything has its place. Our buy, sell, trade shop's inventory is properly and finely displayed based off of category. You will surely know the area to look in when coming in seeking a specific item.
We will treat you with respect! And we'd highly appreciate if you did the same! Our hope is that whether you walk through the doors to sell, to buy, or simply just to browse, that you leave feeling good about your interaction and transaction.
Revolving Inventory! We are always buying and always selling. Our inventory changes and varies on a DAILY BASIS. You never know what you may come across while shopping our store.
VISIT US NOW
We are located in Washington, PA right off of two major interstates, Route 70 and Route 79. People travel near and far for our services. Contact us anytime for gift card buying, electronics, and much more! Surrounding communities we serve include and are not limited to:
California
Bentleyville
Canonsburg
Claysville
Cokeburg
Dunlevey
Eighty Four
Washington County, PA
Finleyville
Houston
Langeloth
Marianna
Avella
Bridgeville
West Middletown
Prosperity
Fredericktown
Jefferson
Rices Landing
Burgettstown
Carnegie
McDonald
Waynesburg
West Alexander
Amity, McMurray
Clarksville
Carmichaels
bordering West Virginia cities and many more.